Yet more pictures
I've been having a play around with the template of the blog and now have pictures to link to my finished projects! Its so much fun!
It got me to thinking about photographing some of my older knitting too so I thought I would start with my big knit from last year, my wedding dress: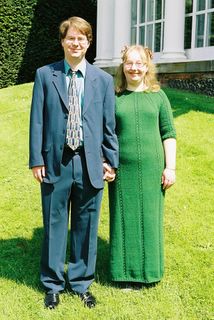 Paul and Heather

In case you hadn't guessed I am the one on the right :-) The other one is the long suffering husband. We got married on May 15th at
Leatherhead Register Office
.
I designed the dress myself, it is knitted top down on circular needles and turned me into a total convert to that method of knitting, it really helps when attempting to get a good fit to be able to try on the knitting as you go. It is knitted using Jaeger Cadiz, 50% silk and 50% viscose, and the colour is Malachite. According to the ball band this is an aran weight yarn but after I knitted a few sample pieces I decided I liked the fabric best when knitted using 3.5mm needles. It is mostly stocking stitch, with 2x2 cables. I got so paranoid when buying yarn for this, since in typical Heather fashion I only discovered it after it had become discontinued! (although it did mean most of the yarn was on sale), that I bought so much yarn that I have enough left over for a matching cardigan, which I will get round to some time. The dress is really heavy but it doesn't seem to have stretched and is very comfy to wear. I wore it again this February with a black cardigan to go to another friend's wedding.
In other knitting I haven't done much on the purple felted bag, hopefully I'll get back to it soon. The latest hat for Nanny is coming along though, I have just started the shaping for the crown. Its a lovely day here today so I will get the camera out later and take a picture of it.
I heard back from
Kangaroo
and unfortunately they don't have all the colourways for the
Mermaid
, and they wont do yarn snippets of the colours they do have. They referred me to
Hanne Falkenberg's website
but that unfortunately doesn't solve the problem of my monitor possibly not displaying the colours properly. It seems quite a lot of money for a kit which I am not quite sure that the colours will be what I expect. This bugs me a little about Hanne's designs, that you can't buy the pattern separately and then select your own colours from a source where you can actually go and see them and make sure they are all colours you like.
OK, you can take your hands off your ears now, I've finished ranting :-) I think I shall go and knit some more hat now.