Mitred T-Shirt
My next project is going to be a mitred t-shirt for the summer, made out of some 4ply cotton I happen to have lying around in a bin bag in the computer room :-)
While waiting for the poncho sweater to dry sufficiently that I can photograph myself in it I thought I would knit up a tension swatch and see what it came out like. So here it is: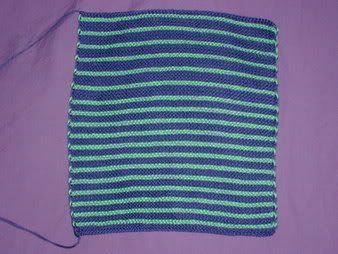 It is knitted in garter stitch on 3mm needles. I wasn't sure about the ratio of depth of the stripes so I started off at the bottom with 4 rows navy, then 2 rows green, then changed to 6 rows navy and 2 rows green. I'm still not sure whether the stripiness will make me look like a deck-chair, hmm. I do have lots of different shades of blue and green so hopefully that will make it look more of a subtle gradation and less stripy. The green I used was slightly thicker than the blue but I must check the bag and see whether this was just this ball. They are each made up of several thinner strands wound together, so while the navy is a flat colour the green I used is actually made up of 4 strands of mid-green and one of a medium blue.
So anyway, the swatch is now waiting to be washed and dried to see if I like the fabric while I contemplate the general stripiness problem. In the meantime I am knitting a bit on a pair of socks I seem to have been making forever. I need to free up my needles for when my 4ply alpaca from Texere (
http://www.texere.co.uk/
) turns up, hopefully any day now!
In other news I had a jolly trip to the Fantasia today (
http://www.jwaad.ndirect.co.uk/fan.html
) but was remarkably restrained and bought only a lovely red/yellow/orange scarf thing and a malachite and silver pendant. I might get round to photographing them hopefully soon. I need to find a necklace for the pendant but I think I have one lurking somewhere. I haven't quite worked out how to wear the scarf, as I'm more of a wooly scarf rather than a drapy scarf kind of a person, but it was so beautiful I will work something out :-)